After months of hunkering down and sheltering in place,  we are all super eager to jazz up our look – am I right? That go-to tried and true, "quarantine chic", "who-will-see-me-anyway" wardrobe is not making any of us feel our best. To remedy this, I've uncovered and want to share, looks featured on runways, (back when they were walked).
Here are some trends that I am excited to try and could help all of us navigate our cautious re-entry into this face masked world…
Bright & Bold: Think Neons and Geometrics
Forget those dull and drab looks, it's time to bust out in bold colors and prints that make you and others smile. Neon is in and when you choose the colors that work with your skin tone, you feel the positive vibes they radiate. Brilliant, glowing, blazing colors are sure tonics to boredom, worry, and stress.
Looking to really get your groove on? Bold and colorful prints and patterns of the swinging '60s can't help but make a woman feel better.  Geometrics and vivid colors provide energy and excitement to any look. This fashion trend is a fun way to declare "Hello, world!

Seeing Spots… As in, Polka-Dots
Yes, polka dots! Just the words make me smile and no one can help the joy and playful feel that dots, big or small deliver. Now's the time to sport those polka dots on a top, scarf, pants, or dress. Heck, even a mask will look better in polka dots. And isn't it such a cheery pattern?
Color Me – Accessory 
I LOVE me some accessories and trendsetters have provided some fun inspirations. As in clothing, bold colors are featured in jewelry this season.  It's all about having fun with accessories, so look to move away from traditional gold and silver and introduce some colorful earrings or necklaces. Nothing sparkles up tried and true fashion like vibrant colors.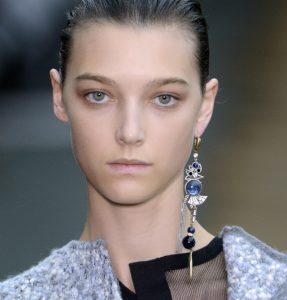 Going Solo with the One Earring Trend
Another exciting accessory trend is a single earring. Find that earring that's statement-making enough to stand on its own, wear it solo and feel your sense of fashion and flare flow. You might keep the pair for when ready to carry them both off, or better yet, share with a friend who may also be looking to enter the world with an on-trend look.
Chunky Jewelry: Go Big! 
Chains and hoops have both gone big or if you're not ready yet, you could always stay home! Both these trends take the focus away from a mask and bring strength and distinction to your look. These statement pieces are forward and fun!
Let's venture, boldly, brightly, polka-dotted spotted, out the door, and bring positive energy and style to the world. Come join me!