It's bleacher time! The leaves are changing, schools are back in session, the air is cool and crisp, and gyms and stadiums everywhere are filling with fans and fun. We love to cheer on our favorite athletes – student, college, professional … it's all for the love of the game! Taking a game side seat means climbing and bending and sitting, often for a long time. I'm sure you can relate, your team scores or makes a big play, BOOM! You pop up to cheer and celebrate. Really, being a spectator is a sport in itself!
Real Talk, Ladies
Sporting your go-to jeans and team-branded top is a staple for games. And all that action means any unbelted jeans and pants will stretch and sag. And that is a definite recipe for bleacher crack.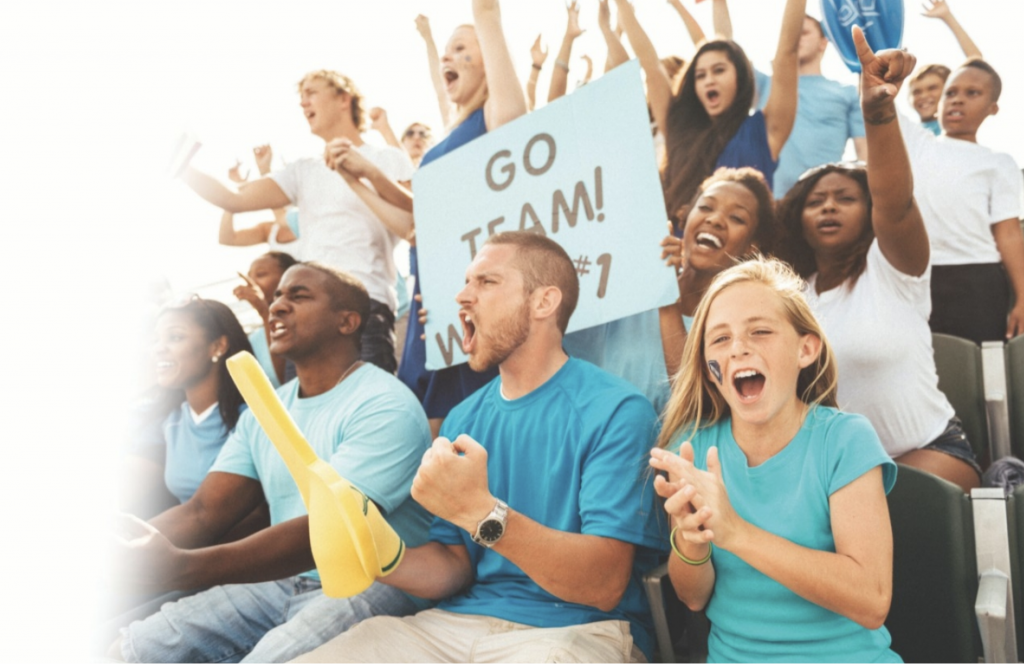 You know that feeling when the back of your pants sag and reveal more than most of us want to show? Certainly, more than those behind us want to see. Or maybe you can't be sure your undergarments or skin won't show – so every time you're up and down, you're constantly checking to adjust. Not fun! While you may have a longer top to help cover any unwanted exposure, that feeling of pants sagging or falling down is not comfortable and just plain unattractive.
I know what you're thinking, "I'll wear a belt. Then my pants will stay up." But is that comfortable? If you're like me – and most women I've talked with – a traditional belt means you feel the cutting of the strap into your skin and the buckle gouging into your stomach. How is a fan supposed to enjoy their team when they are busy yanking up sagging unbelted pants or dealing with the discomfort of a traditional belt?
Shimmy to Celebrate the Score, Not to Hike Up Your Pants
We are here to help bring your best cheering self to the stands. The Sleek Belt® is the magic solution to confidently and stylishly keeping pants in place. The buckle free design means you gain a smooth look, while the nylon fabric used in the belt, is comfortable and won't bind. You'll know it's there because your pants are staying put, but you'll forget it's there because it's so dang comfortable.
While comfort is a key benefit of The Sleek Belt, how about the fact that you will look better too? Seriously! One of our favorite customer comments came from a woman who said she typically avoided belts because they were uncomfortable and she didn't like buckle bulge. That meant sagging pants. But, then she found going belt-free was better than lumpy and confining belts. She had just found The Sleek Belt® and was pleased with how easy it was to wear and how comfortable it was.
One afternoon, while busily making dinner, her husband was finishing up work at the kitchen table … as she was doing her thing in the kitchen, her hubby looked up and blurted out, "Wow, you look great in those jeans".  She said she was sporting The Sleek Belt® and was happy to know her rearview was looking fine.
So, as you plan for all the fun in the stands and bleachers, make sure and dress for success with your very own Sleek Belt. You won't worry about pants staying up, sliding down, or any uncomfortable added bulk. SCORE!